We carry a large selection of Compression Wear including mild to moderate compression as well as higher, medical-grade compression recommended by physicians.
BUY ONE PAIR, GET 20% OFF YOUR SECOND PAIR With Coupon
Compression Leg-wear is commonly used for:
Mild To Moderate Compression
Minor fatigue, aches, heaviness
Swollen feet, ankles and legs
Spider and mild varicose veins
Moderate To Firm Compression
Edema, lymphedema
DVT, post-surgery, pregnancy
Physician recommendation suggested
Along with those that use compression stockings for the treatment & prevention of medical conditions, some people enjoy wearing compression simply because if it feels good & delivers more support than an average stocking can provide. A few examples of common occupations that may benefit from the feeling of relief and support which light compression can provide include:
Nurses and Doctors
Massuers, Cosmetologists and Stylists
Chefs, Line Workers and Restaurant Serving staff
Warehouse, Packing, or Delivery occupations
Business people with desk positions that require prolonged sitting
Frequent travelers or anyone taking a long plane flight
and more...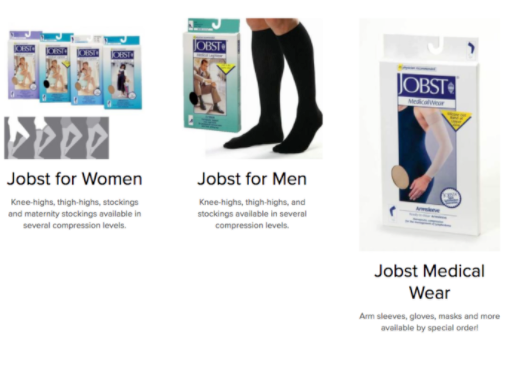 We carry knee-highs, thigh-highs, and stockings for men and women and maternity stockings as well as compression arm sleeves. If we don't have the exact style or size you need we will gladly special order anything in our catalogs for you. Our trained staff will help fit you with your custom sizing to meet your personalized needs.